this is the pin-up that i made of doc galopogos that i was supposed to have  done for the latest issue of  The Secret Voice by,  Zack Soto.
i just finally finished it and hopefully it will run in the next issue. i am just sharing it here because i guess i wasn't too mad about the way it came out.
It Will All Hurt #1 will be going to press in the first week or so of April (still time to pre-order it from studygroup comics if you haven't yet!), and the Regular Editions will start shipping as soon as we have them. Special Editions will ship a little later, as i have to doodle in them still, but we hope to have them all on their way before the official IWAH debut at the Stumptown Comics Fest!
i started doing the it will all hurt web comic again too. check out fridays new installment. i am not saying this just because i am part of that site, but i think studygroup has the best collection of webcomics going on the web right now.  zack soto keeps it going strong.
as just stated issue #1 of it will all hurt, which contains parts one and two as well as some other iwah art, will be debuting in a few weeks at the stumptown comics fest  4/27-4/28 here at the portland oregon convention center. i don't get why practically every comic show in town has to show there but that is where it is at again. oh well, i don't want to start complaining but i couldn't wrangle a table this year at the show. my own fault as usual but i will be there sitting with my publisher STUDY GROUP COMIC BOOKS , part of the PRESS GANG  which also consists of FAMILY STYLE and FLOATING WORLD COMICS. i know it can be a challenge getting there but please look for us.
and these shows i am also definitely doing this year
*VanCAF (Vancouver, BC) 5/25-5/26
*Denver Comic Con | May 31 – June 2, 2013 | Colorado Convention Center
*SPX (Bethesda) 9/14-9/15
*locust moon comics fest -phila, penn-oct 5th
i also want to go to the
*The Projects (here in Portland) August 22-25, 2013
and i would like to attend the close by
*Short Run (Seattle) saturday, nov 30th
So this is going to be the cover of the  issue #40 of prophet.
unfortunately it might be the last thing i do for the series. thanks for all the support i have gotten from  fans of the series. it was fun doing those two issues. i would like to draw at least one other issue but i really need to finish the wrenchies. so i have to focus on that as much as i can for now. here is one of the only drawings i did for the what would have been my third issue.
the good news is i am getting close to being finished with the wrenchies. i have about 234 pages of a 304 page book all scanned in. i am going to try to have it done by the end of the summer and maybe just maybe i can squeeze in a little something prophet-wise. not that i really believe in the power of prayer or anything but if you somehow wanted to send me you your mental and spiritual support so i can crank up the comic making machine a notch i am open to recieve. it is looking pretty hopeful i won't have to resort to a kickstarter to finish it.
that is all the news i want to share about my goings on as a cartoonistrator but if you want to keep reading, keep scrolling down. this part i am sure isn't all that interesting to most  folks but i just want to mention some other stuff i like. a few people have asked me what i have been looking at recently but i can never think fast enough on my feet to answer. my usual go to is tom herpich's excellent white clay book that came out from ad house last year. i read some amount of comics pretty much everyday but i guess i just have a hard time talking about it or even thinking too much about it or something. so i am going to try highlighting some books i have read in the past year that i thought were cool. some of these comics people have either given me, or i have borrowed from the multnomah county library, some i have just bought outright:
i turned 41 years old on the 18th of  march. no big deal.  a few days before that i read a cool story titled, unchained in  Tugboat Press' free comic runner runner #2 by  Al Burian (Burn Collector, Natural Disaster) about turning 41, drawn smashingly by  my 'ol pal, nate powell. i related to the story in more ways than just the age thing. check out that that book if you get a chance. nate did an excellent post about it on his blog a while back.  greg means knows how to put together cool and  fun comics and cool fun free comics.  his papercutter anthology was one of  my favorite things going. this issue of runner runner has a cover and some sweet interior artwork by joe flood. joe has a book coming out by MK Reed and greg from first second, the cute girl network  that is the lead story in here. Tugboat Press  is going to be the mocca fest in nyc this weekend. go pick up your free copy of runner runner from greg. you could also get papercutter #14 which i have a story in. runner runner #2 also has a beautiful back cover by the amazing andrice arp. it is full of some other good gems like a pretty hilarious page by Julia Gfrörer.
speaking of julia g.(a spectacular local artist), a couple of things i have in my pile of comics i have enjoyed recently are black is the color part 2 ( READ THE WHOLE STORY ON THE STUDY GROUP SITE. and  in september you will be able to buy the complete book from FANTAGRAPHICS.) and one of her teenage dinosaur  published minis, Ariadne auf Naxos volume 3, beast. both were rad in different ways. black is the color has beautifully drawn panels of mermaids chatting and people making love told in this eerily charming manner. i read it 3 times straight through.  ariadne auf naxos is a title i find very difficult to say but it is a mini comic that is fun to read. here is a funny page from it.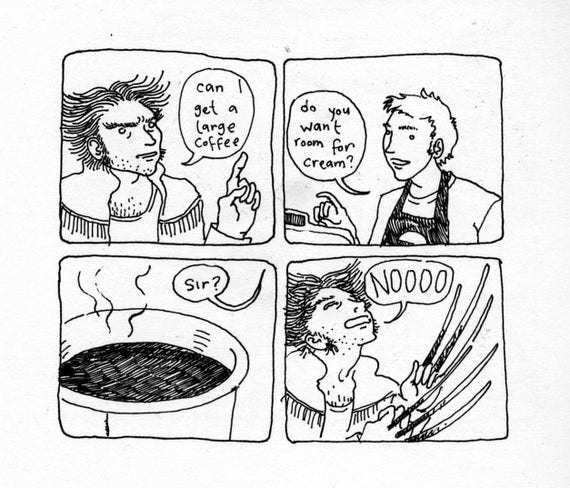 john g's Clevelyn comics i have only read a few minis of but it is so great i wish i could spend days reading some big volumes.
 The Lake Erie Monster by J. Kelly and john g  has a great b-movie horror vibe  to it. one of the coolest parts of it to me is that the comic is sponsored by local cleveland businesses with a bunch of ads drawn by john g and j.kelly. so the artwork for the ads are consistent and almost as equally fun to read as the stories. it's almost like a paraody of an old school comic, or an old school parody comic.
children of the sea 3 (viz) by  Daisuke Igarashi was a beautiful and complex manga epic full of rich characters and gorgeous expressive illustrations.
i want to learn to draw like this guy does. i have been loving this series which a local librarian informed me about. in fact i just saw that my library has volume 4 and put that thing on hold.
about 6 months ago on Nick Gazin's Comic Book Love-In #72 good old nick's entertaining, insightful, and oft contentious comic review blog for vice mag, he reviewed a jacques tardi book. at the time i had just got west coast blues (Fantagraphics) from the library. dang, i need to read the book he reviewed now and the other 30 books by tardi i can find in english because this was such an engrossing read. the story is about a regular business guy who ends up with thugs trying to kill him. exciting storytelling and pleasant to look at black and white art. reading a book like this makes me feel like i am going about this whole comic making business the wrong way.
<
renee french h day–picturebox. i love looking at renee's art. i heard this book was about the author suffering from headaches which which makes sense. but it gave me the opposite of a headache reading it.  i felt totally inspired and in a good but weird mood for the rest of the day. she has a neat story up on the studygroup site too.
brandon graham had been telling me i should read Carla Speed McNeil's Finder for maybe the past couple years. i can't explain why now, but as with a lot of stuff that eventually becomes my favorite stuff i was reticent to check it out. well at last a few months back  i was in the right frame of mind to really immerse myself in it. and i was not sorry. i got sort of obsessive about reading all of the available books straight through. if you are into some cool science fiction and world building mixed with real good human drama i'd say get into this. i especially like reading all the panel annotations in the back.
mike dawson troop 142 (secret acres), i always like mike dawson's stuff. i got this after listening to a bunch of the ink panthers podcasts.  i was never in the boy scouts but if i kind of wish i was after reading this funny and genuinely sweet book. highly enjoyable read.
The Portable Frank , Congress of the Animals, and  Weathercraft by Jim Woodring (fanatgraphics). again with waiting too long to get into something. maybe i just wasn't ready for Jim Woodring before last year. it seems crazy now to me because i thought all these books were spectacular. i'm almost mad that i wasted so much of my life not reading this stuff. thanks to cartooning prodigy Theo Ellsworth for telling me to check him out.
<
You Deserved It (dark horse) by Bob Fingerman. i have read a couple of bob fingerman books over the years and have liked them a lot but as of reading this book i am a solid fan of this guy. i can't say it any better than the description on the amazon page.
i loved Hicksville (D&Q) by Dylan Horrocks when i first read it back in college based on school chum and amazing artist, tomer hanuka's recommendation. i re-read it recently because i heard the new edition has a new comic intro by the author. the intro was insightful and i easily got sucked right into that magical town i wish was real. definitely worth the re-visit.
y'all ever heard of beef jams? American Nature by Greg & Fake Petre, Marc Koprinarov, Dave Landsberger and Krystina Maldonado. i met these excellent dudes in chicago at some comic book show i was sort of at. getting this preview comic was one of the highlights of my time there. click on that american nature link and you will see some really well drawn full color art. i am pretty happy there are people doing funny sports comics. not anything else out there like this that i can think of.
next up is friend and fellow meathauser, minneapolis artist, vincent stall aka King Mini. vincent's were some of the first mini comics i ever purchased, before i even knew mini comics were a thing. at last years stumptown i got to hang with him and get a couple more of his books. and then i decided i needed more so i ordered another one through his most excellent etsy store. if you are into well designed, thoughtful, and moody mini comics his are some of the best.
malachi ward is a fellow studygroup artist i met at last years stumptown show. i really dug the back up stuff he did in prophet so i was pretty interested in reading his own comics. he floated me copies of his utu and real life. both were swell reads and i really dig the format he is using for these comics. after i am done with the wrenchies i would love to  start putting out my work in a similar fashion. very inspiring. and it might have been brandon graham who had me read part one of expansion a cool sci fi book he does with creative partner and awesome artist Matt Sheean all these cool books you can get from his website. utu, top five (another awesome story), and his prophet back up you can even read for free on the studygroup site. and another cool story of his, USS ORIGIN: The Beasts of Kay-7! you can read for free at TopShelf 2.0
only skin (secret acres) is a book i was first introduced to when i visited center for cartoon studies back on my brief east coast omega the unknown tour. i met the artist, sean ford there and really dug the first issue. it has since been collected into a big (really big) book and reads even better as one big volume. also well met at ccs were Charles Forsman  and joseph lambert both of whom are doing comics that i am really impressed by. go buy some of their books. i feel like all these guys making and selling their own books are way smarter than i have ever been about what they want out of their cartoonist lives. i know i overuse the word "inspiring" but people doing comics like this really are what keeps me trying to make a go of this whole weird world of comics.
i have been feeling sort of nostalgic lately about comics i read when i was a teenager. i never actually bought any 20 nude dancers 20 by mark martin when i was younger but it was my favorite part of the old comic buyers guide i used to get every time i would go to my low-cal comic shop. so i finally tracked the two issues that i know of down and was able to finally read all the strips. i was so happy about one of my favorite comic strips being included in the second volume. click on the pic on the right to read it bigger. i remember cutting it out of the cbg and saving it for years. the only other strip i ever did that with was a life in hell comic, "will and abe: bug talk".  i tried scouring the internets for that one but couldn't find it.  if anyone knows in which life in hell book that appears and either wants to send me a jpeg of the strip or  a copy of the book. i will send you back an original drawing in appreciation. anyway, mark martin is a great cartoonist and i love these books. after getting both copies i saw he was on facebook and read a sweet and entirely new autobio comic, Rowdy he had posted up there. i just tried to click the link again but it doesn't seem to be working. maybe that means it will be in print soon? if so then yay for us.
speaking of nostalgia i have made it no secret of my affection for big john buscema's art. a couple years ago adam from cosmic monkey hooked me up with an issue of Marvel Comics Super Special, "Warriors of the Shadow Realm" by Doug Moench,  John Buscema, inker Rudy Nebres, and airbrusher Peter Ledger. it was released back in the day (1979) as the three-parter in Marvel Comics Super Special #11-13. i kind of remembered the weird world stuff being mentioned in old comics. this is sort of like lord of rings done in a painted marvel style and it is pretty great to look at. like i said i am a big fan of buscema so i got the other issues from searching around on the interent. now i have all three. yes! there is a really good blog post i found about it here. and check out this incredible spread.
i met rob woods a few years back at the locust moon comic shop in philadelphia and my life has been enriched as a result. i really relate to his Dead Depressed Punx comics, and frequently found myself laughing out loud while reading it. i don't see anyone else doing anything like this. i'm really into his sense of humor and graphic style. my special lady never reads comics but she really liked rob's stuff. i know you can get copies of his comic from locust moon who i heard might be putting out a big book of ddp. so if you don't live in the phila area email those dudes to send you some. you won't be mad about it.
mark falkey's autofac. mark is another mini comic guy met at stumptown. i have gotten  comics from him the past couple years and they were highlights in the stacks i've come home with. cool poetic stories and excellent drawing, this guy really knows how to make comics i like to read. thanks mark, hope to see you at this years show.
reid psaltis i believe i met at stumptown some years back. i just remember being super impressed by his artwork.  now i just see him all over around town and at other shows making awesome art. the guy draws really kick ass animals. he is going to be up in vancouver at the van caf  while i am there . go check his stuff out. i thought this page he did for Josh Shalek's humor comic "Welcome to Falling Rock National Park." was real pretty.
Stuart Geddes is designing the most amazing objects i have ever seen done with a risograph. i got these two books in the mail all the way from australia,Captain Goodvibes: My Life as a Pork Chop , full of crazy cool comics, and head full of snakes issue one, packed with stunning photographs. click on the links to read descriptions of the books and look at way better pictures than i can take. both of these books are magnificent art objects.
ash hg i met at the seattle show, emerald city comic con a few years ago and have tried to keep up with the comics he has been making since then. i am really enjoying his children of the black circus comic he is creating and hope to eventually read it as one big story. i am probably not doing this justice but it is sort of an outsider take on a horror crime story. i feel like there is a hole in the comics industry he is working on filling. i really like his art style and can't wait to read more of this.
no brow has been killing it in the comics world. they are pretty much my favorite new publisher. i picked up this book, obsolete by mikkel sommer, a few months back and and was pretty blown away by it. a spot on and beautifully drawn silent crime drama.
a couple years ago my pal and cartooning stallion, leland purvis sent me this link saying he knew i would enjoy it. i did and then some. conner willumsen has since become one of my favorite cartoonists. he does these amazing web comic experiences as well as an occasional work for hire story like this astounding and brutal untold tales of the punisher max (#2) story with super prolific and prodigious cartoonist/writer and all around good guy jason latour. i don't really care about most mainstream comics but every once in a while some cool creators really get it right. if you like the punisher even slightly you will probably love this story. i freakin' did. talk about being right up my alley. if i ever got to do a punisher story i would really try to get in the ballpark of this one. also i just saw that conner has a strip on the repeatedly mentioned study group comics. read it here.
and lastly, The Locust Moon Comic by Locust Moon Press to celebrate the grand re-opening in early 2012. (24 pages, $6.00). for some dumb reason i don't think i ever showed you guys this one. it has been up on my flikr but i am not sure i ever posted about it. a couple years back now my favorite east coast comics shop, locust moon commissioned me to do a cover and comic for their store. there sure was a lot of detail in josh's description and i tried my durndest to squeeze everything in there. i thought it turned out pretty cool if i do say so. below is the comic that i did in a severely sleep deprived state. in spite of the rush job i did i was pleased with the results too. though this story might not make total sense out of context. between each page there were other stories by locust moon crew members and awesome duders jimmy comey, rob woods, chris stevens, and josh o'neill. i can't remember if josh wrote this or chris or both of them together but you get the idea.
dang, this seems like a lot of books. if you read this far down i appreciate it. but this certainly doesn't cover everything i have read in the past year. i still have a several pounds of comics that i want to talk about. hopefully i can spend some more time talking to you guys about them. at least this is what i am telling myself right now…