this is a little promo thing  i made for ISLAND, the upcoming image comics anthology.
Island, from Image Comics, a magazine anthology edited by Brandon Graham and featuring a rotating collection of creators inspired by Heavy Metal and Raw  magazine.
coming up this thursday in downtown portland, oregon at FLOATING WORLD COMICS me and the one of the best dudes i know craig thompson will be signing some copies of little nemo: dream a little dream. here is the facebook event page for it. craig's and my own original pages will be hanging in there too, and jason said he making some nice prints of the art. not trying to brag but this book, at the full size of the original Little Nemo broadsheet pages (16″ x 21″), is really a beautiful sight to behold.  after seeing it in person for the first time i was stunned by how good it looks. so not reduce it specialness for people that buy one (it is kind of pricey) i was asked to not post my entire pages on the internet. but here are some "special features" or whatever for my two pages:
this is a not so great picture of the inked version and then the print ready watercolored colored version on the right.
and this was a photo i took mid-process. i almost like it better in this half finished state. i need to figure out how to simplify my coloring style or something. observe the fairy on the left of the page. i had to cut her and the little flip i drew on the original so as to keep the proportions consistent with the original broadsheet size with border and trim and bleed and all that.  i measured the art dimensions from the sunday press nemo book and did them at the exact size, but the bristol paper i was working on was bigger and i added them without realizing they wouldn't fit in the book. here are the scanned and cleaned up versions:
across both "page"? maybe it is was a good thing they got cut.
here is another shot of a partly inked panel and then finished watercolor and cleaned up version. i tried to put as much stuff from the old strip in my pages as i could fit. i think half the artists in the book drew that turkey swallowing the house. 
this is a Raphaël Kolinsky brush if you are interested. i was told that there is a distinction between a Sable and a kolinsky but either way i feel bad little animals had to die for me to make comics.  and then there was another mess-up on my part that isn't that bad but unfortunately made it into the printed version.http://www.dickblick.com/products/raphael-kolinsky-red-sable-fine-pointed-round/
 on the dedication at the bottom i drew the brush i make comics with but in the printed version i accidentally had the brush blacked out in photoshop. no big deal as it is so small but it still stings a little. just one of those things.
i also have been doing a little more on iT wILL aLL hURT,  wrapping up part 6, the final chapter of IWAH. Poor little Robot Tod is getting all scrambled up this chapter. Studygroup Comics and I are going to try to have that issue three out for the upcoming Linework NW show. after that all three issues collecting all six chapters should be at your local comics shops.
 after giving it a while to sink in i think the comic book/graphic novel i read last year that hit me the hardest was probably Beautiful Darkness by Fabien Vehlmann and Kerascoët.  so many great books came out this year still trying to plow through the stacks. listed below are my favorite (whatever that's worth) best of 2014 comics LISTS. i am a little biased because i mostly just looked at lists the wrenchies were on, all except one of  the few blogs i look at often, comics and cola, but i like pretty much all the other books mentioned and i feel like these all give a pretty good coverage of most of the stuff i have read or want to read soon:
the onion AV club best comics of 2014
vice magazine top eleven comics of 2014
Floating World Comics (lcs) sales report for 2014
" kill the enchantments with our understanding and satisfaction."
that is a line my buddy josh o'neil wrote in the best run down of the wrenchies i have read and probably will ever read.
this year is back to the drawing board for me. i will spend the rest of the year working on:
* POp Gun War: chain letter coming out in new image anthology Island
*last chapter of  iT wILL aLL hURT on studygroup comics
and finally here are some (hopefully all) appearances i will be doing this year:
*ECCC-emerald city comic con, Seattle , WA-3/27-3/29
*Linework NW-Portland, OR 4/18 and 4/19
*VanCAF-Vancouver Comic Arts Fest, Vancouver, BC, CANADA 5/23-4/25
*SPX-The Small Press Expo, Bethesda, MD . Sept. 19-20
*Thought bubble UK, Leeds- november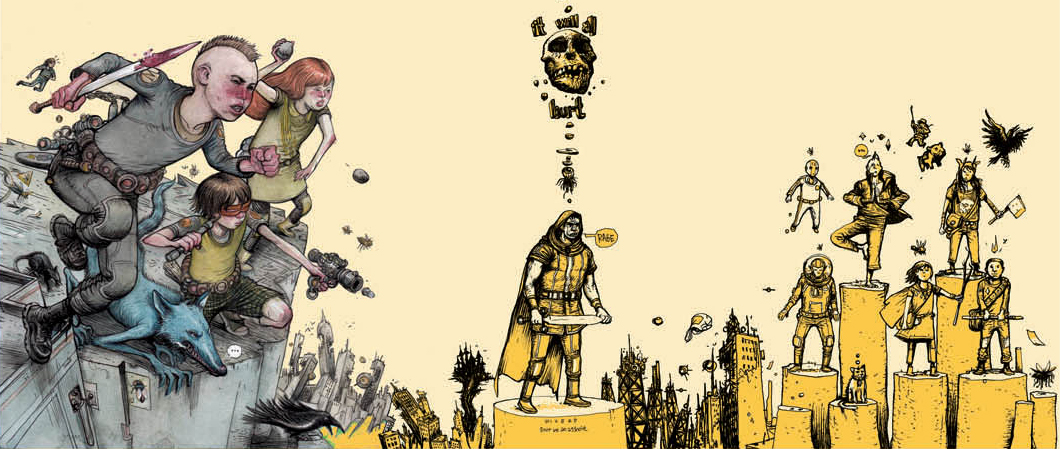 cover mash up of the wrenchies and iT wILL aLL hURT #2
-fareld