for people in tulsa my sister. my mom, and i are having an art sale on saturday, nov. 19th at my sister's house:
2529 e. 56th pl
tulsa, ok
two blocks east of lewis
918-746-0703
there will be handmade items, paintings, prints, christmas ornaments, collages, and more
it is from 10 am to 5pm
and for folks in nyc my friend and meathaus collaborator jim campbell's band Paper Fleet is releasing their debut 7 inch record with a release party at Cake-Shop Monday Dec 5th. the Ottomen and Paper Fleet will play so mark your calendars.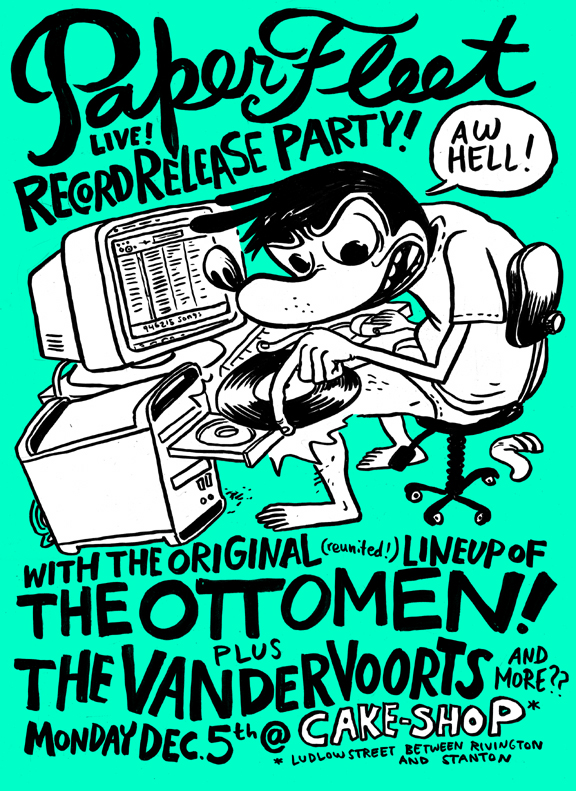 -flyer art by angry jim
i already posted this on my space but my friend in nyc has found a kitten in need of a home. here is part of her email message with pictures:
"i will be straight with you, this kitten needs a lot of attention since it's so young. it needs to be fed everytime it wakes up.. i feed it kitten milk via a plastic eye dropper….. he/she is adjusting VERY well. we sleep together at night, and it snuggles in my arm pit, or on my neck. it's eyes opened on thursday, and is now walking…. i feel it is about 12 days old but could be about 14 or so….. yes, it's TINY, but the most loving little guy. i am willing to travel out of nyc to deliver it to someone, (within reasonable distance-3hrs or so) so no worries…"


drop me an email if you want the poor little furry guy and i will give you my friend's phone number.